Darren Kitchen is on the show to help us understand why we shouldn't freak out about the OAuth flaw, and what Apple, Google and Facebook are really doing to protect their users from government data requests.
Len Peralta was on assignment today So Jennie did some 8th grade-level fear-based art: What's A Poor Normal To Do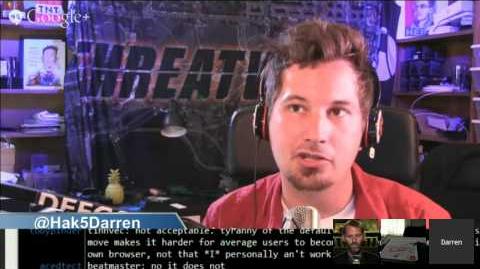 Or you can download the MP3 version here.
Headlines
Edit
News From You
Edit
Beatmaster80 pointed us to the Record story that Lila Tretikov has been named Executive Director of Wikimedia Foundation, the nonprofit organization that runs Wikipedia among other projects. Outgoing director Sue Gardner will end her term on June 1. Tretikov was previously chief product officer at SugarCRM. Tretikov's personal background growing up in the Soviet Union and her experience with open-source engineering seem to be the main reasons she got the job.
Pootinky pointed to a a slashdot posting about a Vanderbilt University graduate student, working at Oak Ridge National Laboratory, who has discovered a way to create three-atom-thick nanowires capable of linking transistors and other components. It's a step toward devices that could be as thin as paper.
Discussion Section Links
Edit
Pick of the Day
Edit
 Dogeforsale.com via Luke Olsen

Looking to get into some Dogecoins before the DogeCar takes the track at Talladega this weekend. Not sure how to how to navigate crypto exchanges? Have no fear dogeforsale.com is here. Its a site where users can buy and sell Dogecoins with paypal, google wallet, debit cards, etc. The site is a basic escrow service, it holds the coins during the transaction. Get Dogecoins fast and securely. much speed very secure. DISCLAIMER: I'm a seller on the site "SkyJedi"
Ad blocker interference detected!
Wikia is a free-to-use site that makes money from advertising. We have a modified experience for viewers using ad blockers

Wikia is not accessible if you've made further modifications. Remove the custom ad blocker rule(s) and the page will load as expected.